ATESL 2019 Conference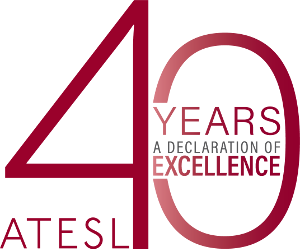 40 Years: A Declaration of Excellence
Thank you everyone for making ATESL's conference 40 Years: A Declaration of Excellence a success!
We had a great turn out and exceptional presentations and speakers!
Photo booth
Did you take a picture at the conference photo booth? Look for yourself here! ATESL 2019 Photo Booth
Program and Presentations
Did you really love in the information shared at a session?
Please check for presentation handouts on the Program page in Presentation Handouts Folder : Program

We could not have done this without you!
Don't forget to follow @ATESLnews and our Facebook page for conference follow up.
Thank you!
Alana Johnson and Jacky Rivas
2019 ATESL Conference Co-chairs