Keynote Speakers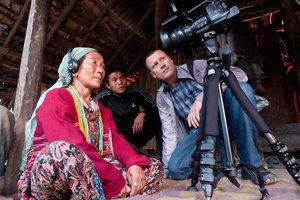 Dr. K. David Harrison
Professor of Linguistics, Swarthmore College
Explorer, National Geographic Society
Endangered Languages
Half of the world's languages are endangered and may go extinct in this century. The loss of these languages will have dire consequences not only for their speakers, but also for culture, science, and the environment. Around the world, speakers of endangered languages are mounting strategic efforts to save their languages. This presentation features photos and video clips of speakers of some of the world's most endangered languages, from Siberia, India, the USA and other locations, and will demonstrate how indigenous speakers and linguists are working to sustain languages through technology and digital activism.
Anthropologist and linguist David Harrison has been a National Geographic Fellow and co-director of the Society's Enduring Voices Project, documenting endangered languages and cultures around the world. He has done extensive fieldwork with indigenous communities from Siberia and Mongolia to Peru, India, and Australia. His global research is the subject of the acclaimed documentary film The Linguists, and his work has been featured in numerous publications including The New York Times, USA Today, and Science. David is both a professor of linguistics and associate provost for academic programs at Swarthmore College.
The Shoe Project
The Shoe Project is a writing and performance workshop where immigrant women tell the stories of their arrival in Canada – through a pair of shoes. They are coached by veteran Canadian writers and theatre professionals.
Shoes accompany us on all our journeys. They say who we are, where we came from and where we are going. Writing their shoe memoirs gives members a voice and helps them be heard in the Canadian mainstream.
Now in its sixth year, The Shoe Project was created by novelist Katherine Govier and incubated at the Bata Shoe Museum in Toronto.
Myleen Sacro is from the Philippines and moved to Canada in 2010. She works as executive assistant-board support at the Calgary Immigrant Women's Association, where she first started as a volunteer and a client. She holds a Bachelor of Arts in Economics, Bachelor of Law and a Master of Management in Public Administration. She is a Regulated Canadian Immigration Consultant.
Ngozi Onyinye earned a Bachelor of Science in Public Administration from Nigeria's University of Calabar, where she received awards for academic achievement and for reaching out to students through various faith-related publications as an editor-in-chief and editorial adviser. In 2017 she moved to Calgary. She is currently a human resources and administrative professional, with a passion for assisting women and youth to help them achieve their dreams.
Rupasree Goswami born in Kolkata, India, but lived in several cities because her father was transferred for work. She earned a bachelor's degree in mechanical engineering and a Master of Business Administration, specializing in international business marketing. In 2013, she moved to Calgary from India when her husband was transferred with his company. She now works with a multinational company.
Seran Celik was born in Aksaray, Turkey and grew up in the city of Manisa. She started work at age 13 after learning to sew, but continued her studies from home, finishing high school and taking communication, computer and drawing courses. In 2009, she moved to Calgary where she learned to speak English. She has two daughters and works for the Calgary Board of Education as a lunch supervisor and classroom assistant.
Nasima Behzad was born in Afghanistan in 1991 during a civil war. She lived in Pakistan as a refugee for many years and came to Canada two years ago.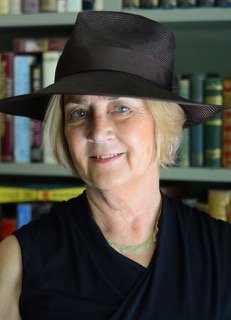 Katherine Govier
Katherine Govier was born in Edmonton and attending the University of Alberta where she received a degree in Honours English. She also holds a Masters degree from York University. The author of thirteen books, Katherine has been instrumental in establishing two innovative writing programs. In 1989, with teacher Trevor Owen, she helped found Writers in Electronic Residence. Today she is the founder and Artistic Director of The Shoe Project, working to improve the written and spoken English of immigrant women. She has been President of PEN Canada and is a vice president of the Canadian Civil Liberties Association.
Katherine's most recent novel, The Three Sisters Bar and Hotel, tells the story of a family of pony outfitters in the Rocky Mountains over one hundred years. Her previous novel, The Ghost Brush, is about the daughter of the famous Japanese printmaker, Hokusai, creator of The Great Wave. It was published in the United States as The Printmaker's Daughter, and in translation in Romania, Spain, Quebec, and Japan. Katherine's novel Creation, about John James Audubon in Labrador, was a New York Times Notable Book of the Year in 2003. She has won Canada's Marian Engel Award for a woman writer (1997) and the Toronto Book Award (1992). She has twice been shortlisted for Ontario's Trillium prize and is a Distinguished Alumna of The University of Alberta.
Katherine travels between Toronto and Canmore, Alberta, in the Rocky Mountains with her partner Nick, a retired food and wine publisher. She holds a black belt in classical martial arts and loves skiing and hiking in the Rockies.
Website: www.govier.com
Twitter: @kmgovier
Facebook: Katherine Govier Writes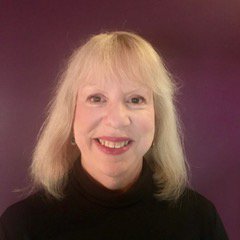 Jayme Adelson-Goldstein
Jayme Adelson-Goldstein, Lighthearted Learning, is a curriculum consultant and teacher educator. Jayme works with adult school and community college agencies to help English language teachers' maximize their learners' outcomes using rigorous and contextualized instruction, aligned to 21st century standards. She has developed face-to-face and online professional development for myriad organizations including TESOL, CALPRO (California), SABES (Massachusetts), and the American Institutes for Research. She has also provided curriculum support to agencies such as Portland Adult Education (Maine) and the Los Angeles Unified School District's Division of Adult and Career Education. Having the opportunity to provide workshops and keynotes internationally has expanded her perspective, while confirming the universal challenges and joys of the ELT field.
Throughout her 35 plus years as a teacher educator, Jayme's focus continues to be on refining instruction that respects (and differentiates for) the needs of both learners and instructors. Her recent publications include The Oxford Picture Dictionary 3e; Oxford's Step Forward 2e: Standards Based Language Learning for Work and Academic Readiness; and the LINCS ESL Pro digital companion learning resource, Preparing English Learners for Work and Career Pathways. In addition, she is the host of the podcast: Oxford Adult ESL Conversations.