Welcome to ATESL
The Alberta Teachers of English as a Second Language (ATESL) is a professional organization that promotes the highest standards of teaching and English language program provision for all learners in Alberta whose first language is other than English.
ATESL 2019 Conference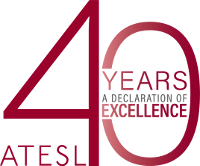 40 Years: A Declaration of Excellence
ATESL is excited to invite you all to its 40th Anniversary conference in Calgary on October 18 & 19 at the Westin Hotel.
ATESL Membership Fee Increase - June 1, 2019
Hello ATESL Members,

During the past 40 years, ATESL has managed its finances responsibly and with strong accountability to the membership. Thankfully, it remains in a strong position to continue its operations, but as we grow and address emerging challenges, we need to ensure the organization's long history of fiscal stability is maintained.

For those who might not be aware, ATESL currently offers one of the lowest membership fees in Canada when compared to other provinces that offer similar professional development initiatives.
In addition to seeking funding from diverse sources, one of the ways that we are intending to support the organization is with a change to membership fees. Rather than roll these changes out overnight, we strongly believe you should know when and how they are changing.

All ATESL membership fees will receive a nominal increase effective June 1, 2019.
These changes will help us provide benefits and supports across the province, including:
● Planning and execution of the annual ATESL conference,
● Securing relationships with interprovincial partners,
● Providing new comprehensive health insurance plans for our members,
● Increase bursaries and/or conference incentives,
● Local PD sessions, and chances to win a free conference registration,
● Continuing to address annual operating costs and overhead sustainability.
The new membership fee tiers will be as follows:

Membership Levels

One Year Regular
Current Fee: $48.38 + GST= $50.80
New Fee: $58.00 + GST= $60.90

Two Year Regular
Current Fee: $84.00 + GST= $90.30
New Fee: $100.00 + GST = $105.00

One Year: Volunteer, Student, Unemployed/Retired
Current Fee: $32.25 + GST = $33.86
New Fee: 38.00 + GST = $39.90
Rest assured, ATESL is constantly looking for sponsorships and other sources of funding to increase the value of membership while keeping fees as low as possible. If you have any suggestions, questions, or feel that you're in a position to contribute to this growth, please write us at ask@atesl.ca

We have answered some Frequently Asked Questions that you may have regarding the membership changes. Please see below:
FAQ:
Q: Why are membership fees increasing now?
A: The ATESL board feels that increasing fees mid-year can help avoid a deficit for the 2019 calendar year. Please feel free to email ask@atesl.ca for more information regarding ATESL's historical financial statements.

Q: Can I renew now so I don't have to pay more when the cost goes up?
A: Of course! Your membership expiration date will still be carried annually from the current expiry date. For example: If you current expiry date is October 15, 2019 and you renew prior to June 1st, your new expiry date will be October 15, 2020.

Q: ATESL passed the last membership fee increase at its AGM in 2015. Is the Board obligated to get membership approval before enacting a fee increase?
A: Per the bylaws, "1. The membership fee for each class of members shall be determined by the Board of Directors and, from time to time, be subject to review by the members at the Annual General Meeting."
Prior to the January 1, 2016 fee increase, ATESL hadn't raised its membership fees for over 10 years. The board reviewed the current finances and forecast that it would be best to enact the proposed membership fee increase in June of this year, to coincide with the launch of new bursaries and group insurance plans.

Q: What are the sources of revenue for ATESL?
A: ATESL currently has only two sources of revenue, Membership Fees and profit from conferences. Fees cover only a small portion of our budget and profit from conferences is a tenuous revenue source. All other provincial TESL associations (eg. B.C., Ontario, etc.) receive large grants from external sources. The ATESL board is actively looking to find other funding sources.

If you have any questions at all, please feel free to email Irene Wood at atesl.admin@atesl.ca, or ATESL President, Colyn deGraaff at president@atesl.ca
ATESL Ed Tech Special Interest Group
The Ed Tech SIG will be meeting again soon - watch your emails.