Welcome to ATESL
The Alberta Teachers of English as a Second Language (ATESL) is a professional organization that promotes the highest standards of teaching and English language program provision for all learners in Alberta whose first language is other than English.
ATESL 2020 Conference
Keep looking here for more information about the 2020 ATESL Conference which is happening on October 16 & 17th in Edmonton at the Fantasyland hotel!
If you would like to be involved in the planning, please contact Irene Wood at atesl.admin@atesl.ca for more information.
ATESL Member Discounts
The ATESL Board has been working hard over the past year to secure discounts for our members at Alberta retailers and service providers.
Be sure to have your ATESL Membership card on hand at the following locations and keep checking back for more discounts.
https://www.atesl.ca/membership/member-discounts/
ATESL 2019 Conference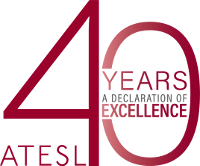 40 Years: A Declaration of Excellence
Thank you everyone for making ATESL's conference 40 Years: A Declaration of Excellence a success!
We had a great turn out and exceptional presentations and speakers!
Photo booth
Did you take a picture at the photo booth? Look for yourself here! ATESL 2019 Photo Booth

Program and Presentations
Did you really love in the information shared at a session?
Please check for presentation handouts on the Program page in Presentation Handouts Folder : Program

We could not have done this without you!
Don't forget to follow @ATESLnews and our Facebook page for conference follow up.
Thank you!
Alana Johnson and Jacky Rivas
2019 ATESL Conference Co-chairs
ATESL Ed Tech Special Interest Group
The Ed Tech SIG will be meeting again soon - watch your emails.