Welcome to ATESL
The Alberta Teachers of English as a Second Language (ATESL) is a professional organization that promotes the highest standards of teaching and English language program provision for all learners in Alberta whose first language is other than English.
ATESL 2019 Conference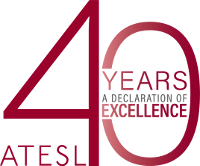 40 Years: A Declaration of Excellence
ATESL is excited to invite you all to its 40th Anniversary conference in Calgary on October 18 & 19 at the Westin Hotel.
Conference Registration is now open! https://www.atesl.ca/conference/registration/

ATESL Ed Tech Special Interest Group
The Ed Tech SIG will be meeting again soon - watch your emails.