Welcome to ATESL
The Alberta Teachers of English as a Second Language (ATESL) is a professional organization that promotes the highest standards of teaching and English language program provision for all learners in Alberta whose first language is other than English.
ATESL 2019 Conference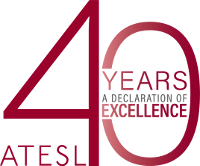 40 Years: A Declaration of Excellence
ATESL is excited to invite you all to its 40th Anniversary conference in Calgary on October 18 & 19 at the Westin Hotel.

We wanted to update you on some fun happenings we have planned for this year's 40th anniversary.
Wear Your Red!
To celebrate ATESL's 40th Ruby Anniversary we are asking you to celebrate with us and wear red to the conference. Get creative, have fun and GET YOUR RED ON!
Stories of Excellence
As you know this year's conference theme is 40 Years: A Declaration of Excellence. The theme is intended to capture the creativity and quality work of English language professionals in Alberta, and to celebrate the history of ATESL's forty years.
We are asking for your help: Please share any stories of teaching excellence or a Best Practice that have impacted you and your career!
Please submit your stories to: conferencebp@atesl.ca
Photo booth
Gather up your fellow ATESL colleagues and snap some photos! Throw some props on and join us at the photo booth! We will let you know when you can have some fun and take some pics throughout both days of the conference.
Program
Be sure to check out the presentation schedule so you can plan your conference!
https://www.atesl.ca/conference/program/ Download the Sched app on your phone to maximize your experience.
*Please note that we won't be having printed schedules available.
Remember – Conference Registration closes on October 11th, so if you haven't had a chance to register yet, do it soon.
Don't forget to tweet at #ATESL2019 and follow @ATESLnews and our Facebook page for updates as the conference approaches.
ATESL Ed Tech Special Interest Group
The Ed Tech SIG will be meeting again soon - watch your emails.