Welcome to ATESL
The Alberta Teachers of English as a Second Language (ATESL) is a professional organization that promotes the highest standards of teaching and English language program provision for all learners in Alberta whose first language is other than English.
ATESL 2019 Conference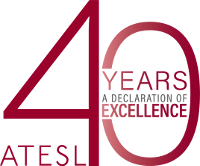 40 Years: A Declaration of Excellence
ATESL is excited to invite you all to its 40th Anniversary conference in Calgary on October 18 & 19 at the Westin Hotel.
Conference Registration is now open! https://www.atesl.ca/conference/registration/

NOTE: the early bird registration deadline has been extended to Wednesday, September 18 due to a problem with the Conference Registration website.
The 2019 Nomination forms for ATESL's membership awards: The Carolyn Dieleman Award, the Dawn Seabrook de Vargas Fellowship, and the ATESL Lifetime Membership Award have been posted to the Awards page.
If you know of a deserving ATESL member who you would like to see recognized for their contributions to the field, please submit a nomination!
Submission deadline is September 10.
ATESL Ed Tech Special Interest Group
The Ed Tech SIG will be meeting again soon - watch your emails.